Air Canada Business Class 737 MAX Review
On our recent round the world trip we travelled from Montreal to San Francisco with Air Canada in their Business Class. Prior to our flight we visited the Maple Leaf Lounge, Air Canada's Business Class Lounge. With dedicated boarding lanes and being in group 1, the boarding process was quick and easy although we were all boarding from the front of the aircraft.
Air Canada Business Class Cabin Layout
We were seated in 4A, a window seat on the last row of the business class cabin of the 737 Max. With a 2-2 layout, this meant we did not have direct aisle access for this flight. We didn't find it to be an issue with it being less than 6 hours flying time to San Francisco.
Air Canada Business Class Storage And Amenities
For a shorter international flight, the seats were large and provided decent storage with easy-to-reach pockets for magazines, books or a laptop, while a section above where documents could be stored. There was also a small storage section in the back of the middle armrest from the seats in front.
The chair was reasonably comfortable with a bigger armrest located in the middle, with a small flat table-like section to rest your drink, and a smaller armrest located on the outside. While the seat controls were easy to locate and use it was hard to adjust the footrest in front of the seat, which was nice to rest on when finally in the right position.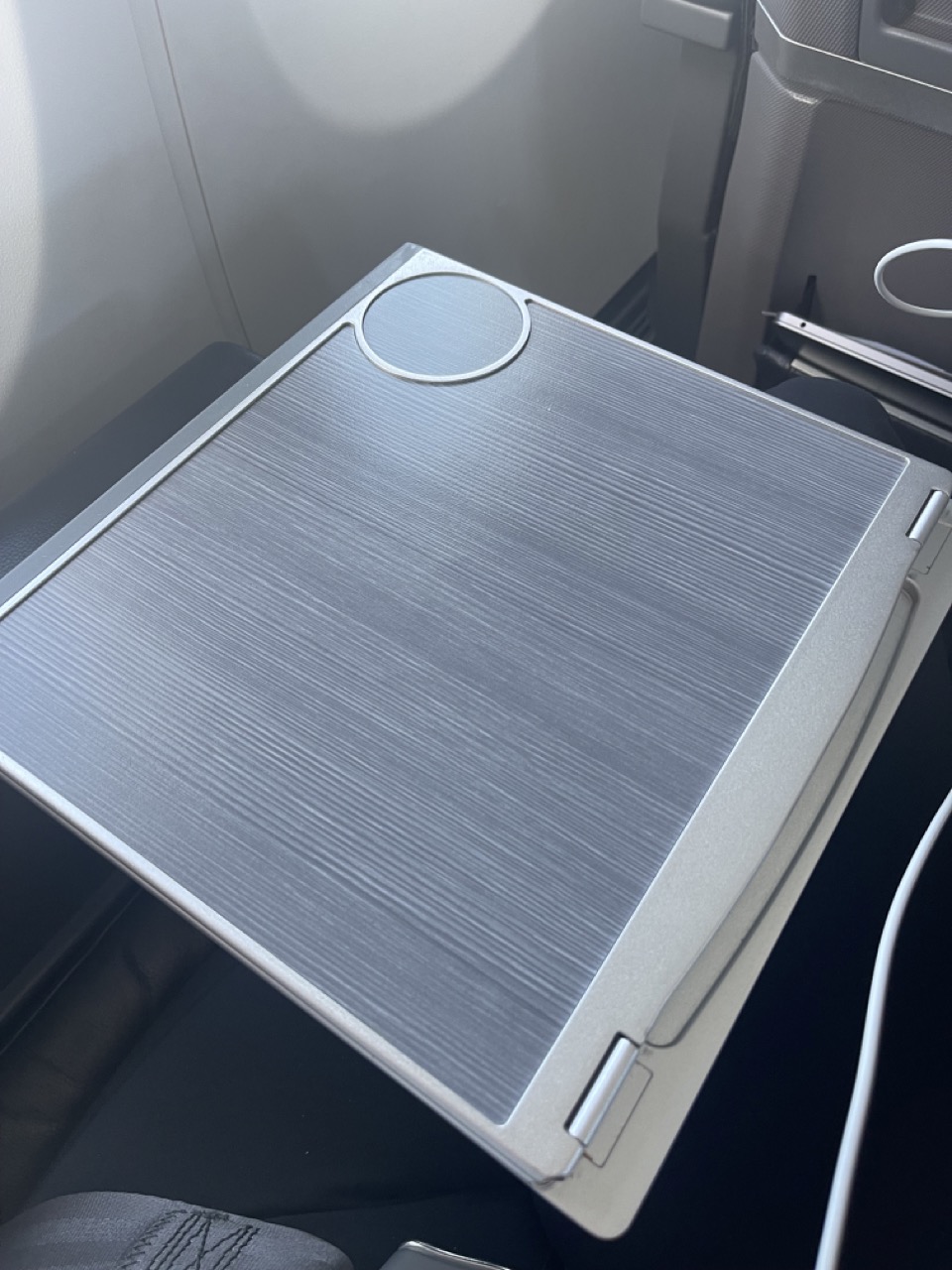 Charging ports and headphone plugs were available under the TV screen, with staff coming around shortly after takeoff to hand our small ear plug. No noise-canceling headphones were provided, yet the smaller ones still did the job. We were surprised the screen was as large as it was, along with having a good selection of movies available.
Air Canada Business Class Meal Service
Prior to take off we were provided a menu for our dinner selection. We had the option of a chicken dish or a vegetarian gnocchi. Dinner service began shortly after take-off, starting with a hot towel a selection of warmed nuts, a bottle of water and a drink of choice. As this was the start of our journey back to Australia we opted for a black coffee to stay awake.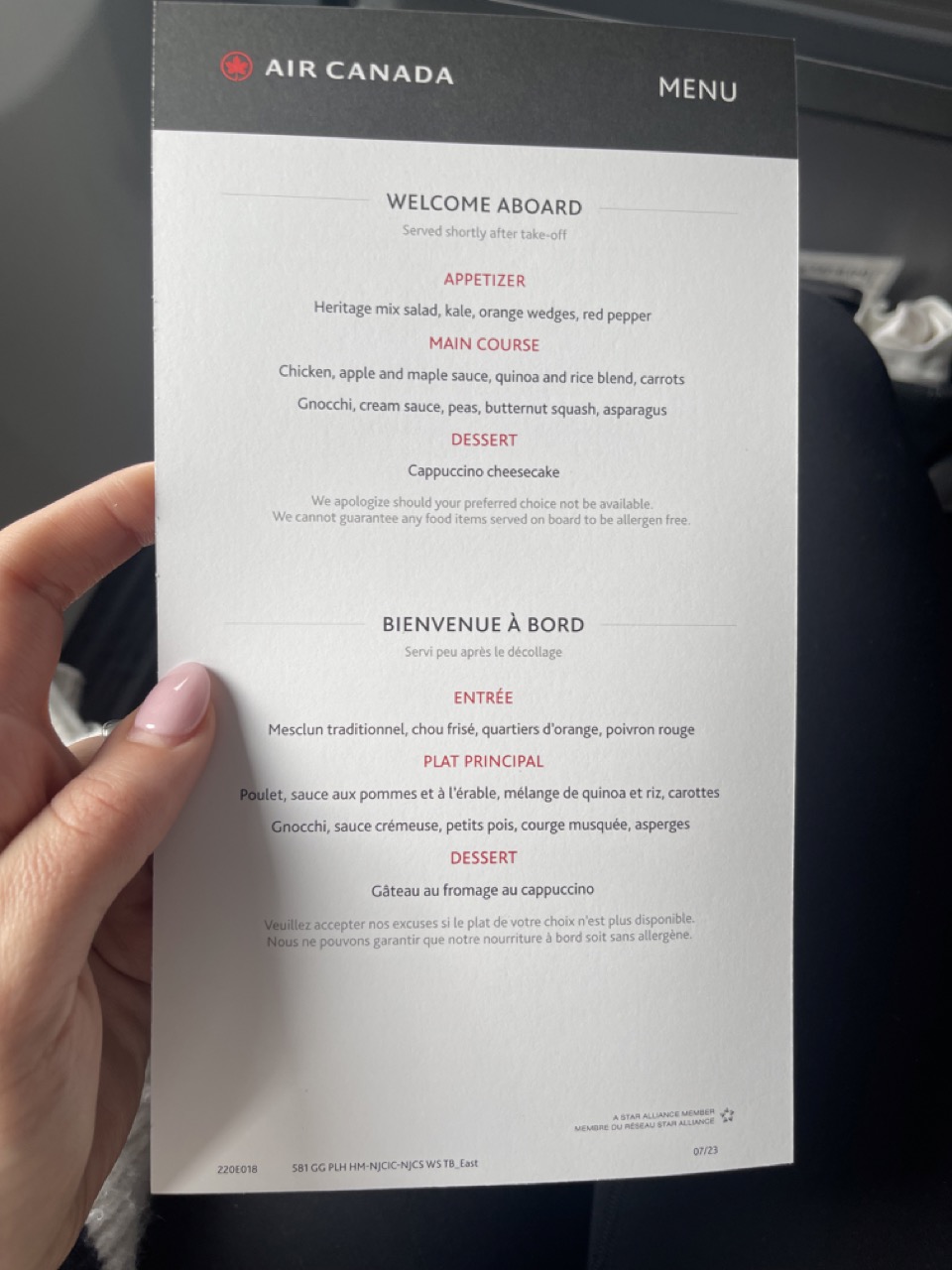 We chose the chicken dish which was served with apple sauce and rice, quinoa, carrot and capsicum was an average meal. The chicken was very soft but had the taste of reheated chicken that left you with a bad taste in your mouth. The side of rice, quinoa and vegetables was the best section of the dish, but still very overcooked. Fortunately, the salad with balsamic glaze was fresh. The espresso cheesecake for dessert was definitely a highlight. It was soft and rich without being overwhelming and was our favourite part of the meal.
After finishing our meal, staff came around offering drink refills. They also has a basket full of chocolate, giving us the option to select which chocolate we would like. We went with Lindt dark.
Service onboard was friendly and efficient, with a single staff member attending to the business class cabin, which was almost full with 14 out of 16 seats occupied. Although we were seated in a 2-2 layout and didn't have direct aisle access, the flight was comfortable and the service was good. We would like to see the 1-2-1 layout on flights any longer than 6 hours, but for ours, it was a comfortable experience.
To book your next around the world trip, contact an airfare specialist at RoundAbout Travel today →