United Polaris Business Class Review
We recently flew Business Class from San Francisco to Sydney on the United Polaris Business Class. Prior to this we visited the United Polaris Lounge located in San Francisco's International terminal 1, near gate G. With an initial departure date of 10:55pm, this was delayed by 45 minutes, meaning we didn't depart San Francisco until almost midnight. At this point, everyone was eager to get on board and get some sleep.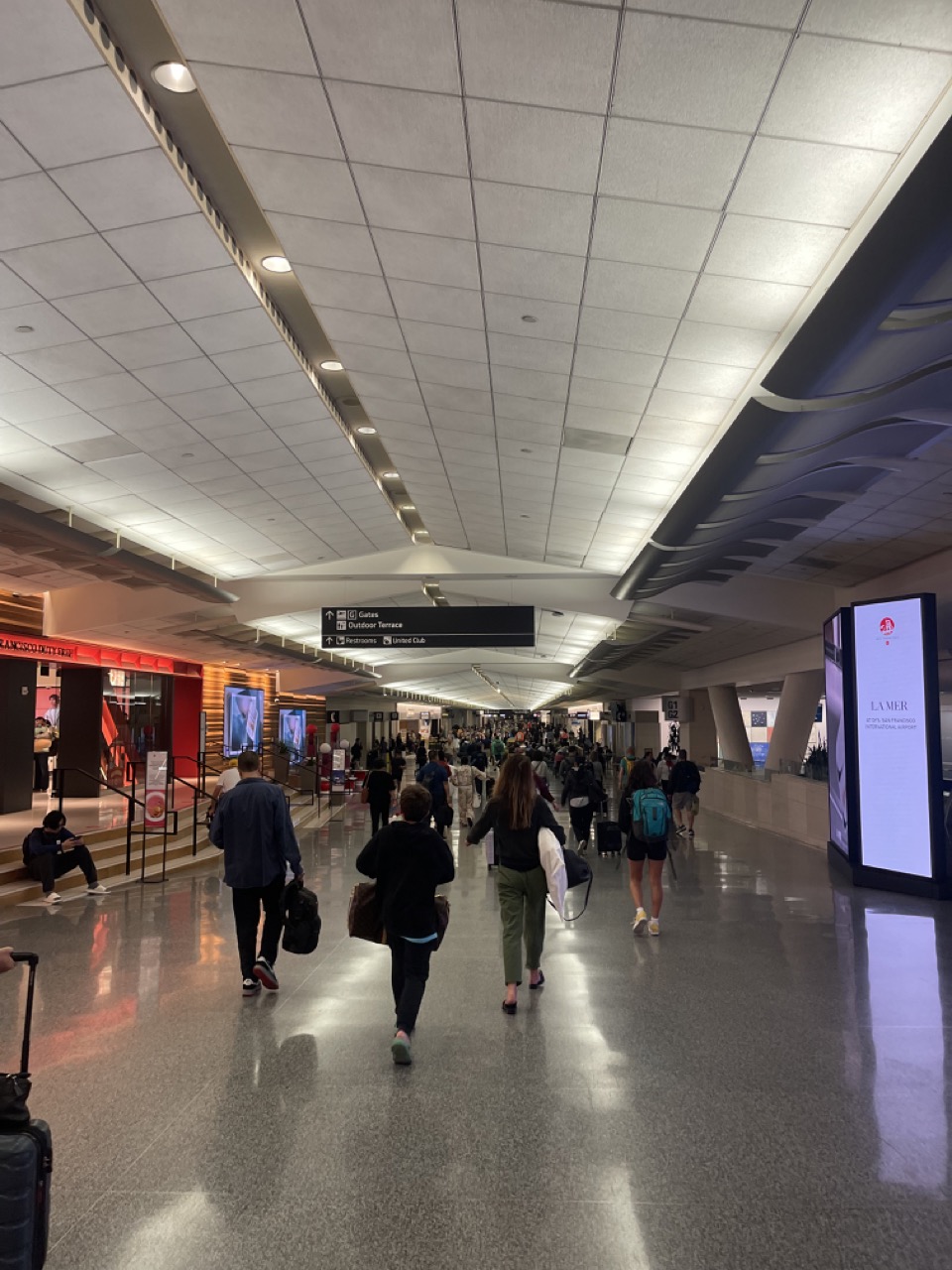 United Polaris Business Class Cabin Layout
We were seated in 15A, a window seat. The cabin layout was a 1-2-1, giving each seat direct aisle access and staggering seating to allow for a good amount of legroom. This meant we were located right against the window, with our table against the aisle. This has become our preferred seating allocation, as it allows for a touch more privacy, rather than being seated directly on the aisle.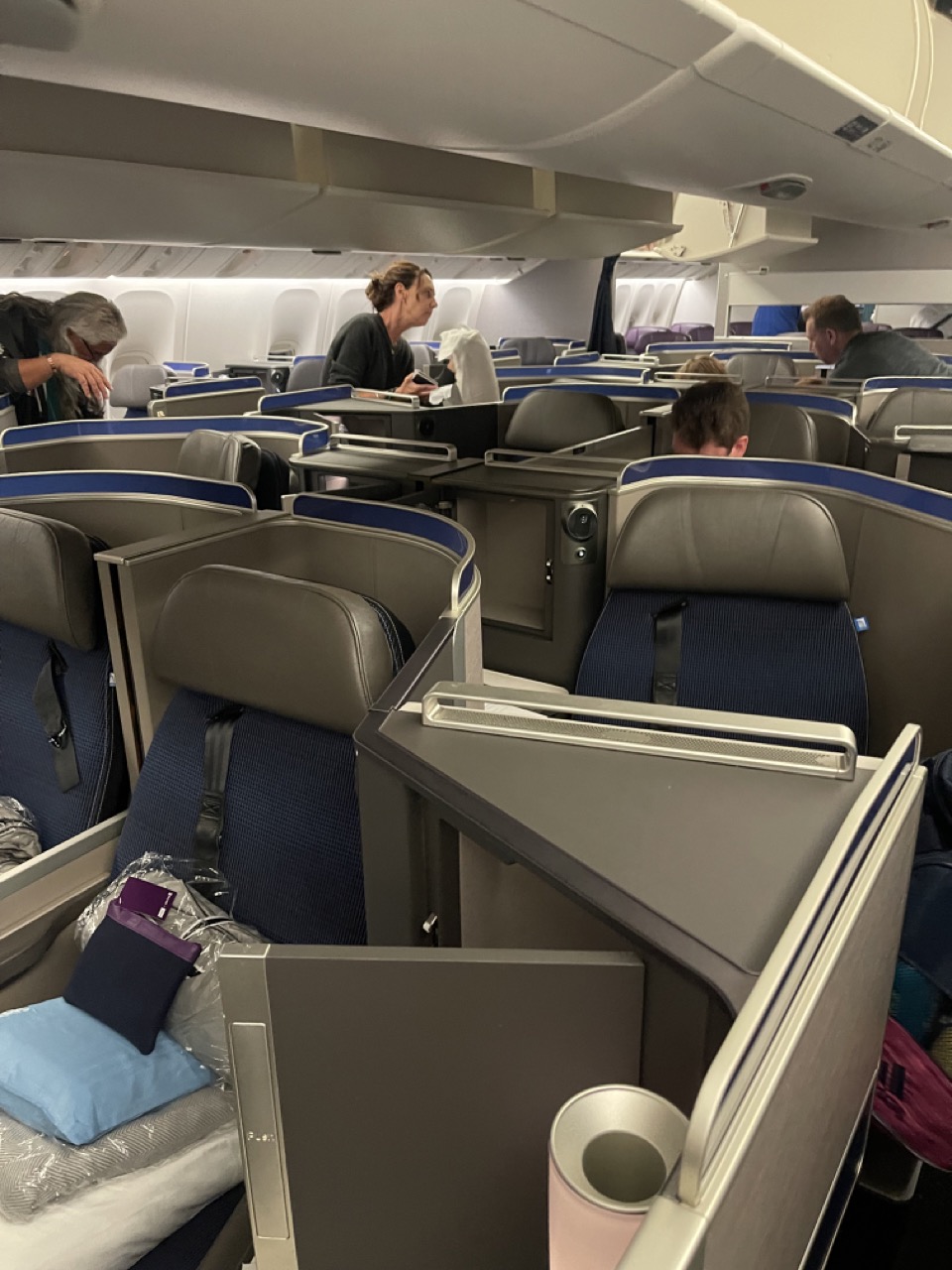 United Polaris Business Class Amenities And Storage
When we arrived at our seat there was a blanket from Sax Fifth Avenue, a secondary throw style rug, a pair of slippers, amenity kit, memory foam pillow along with a larger plush pillow. A pair of headphones were located to the right of the seat inside a small storage compartment, along with a mirror and bottle of water. Directly under this compartment was a charging port along with the TV remote.
In front of the seat was the TV along with a small storage compartment for smaller items such as your phone and charging cables. A USB charging port was to the left of this, however when using it to charge our phone, it was very slow (lucky it was a 15 hour flight)!
Under the small storage compartment was our tray table. The table was adjustable in length and size, making it easy to move around to our liking. To the left of our seat were the seat controls. Some airlines have these in a square pad however these were in a straight line along the edge of the window. Having these further down made it easy to use when laying in the fully flat bed.
The amenity kit was a purple neoprene zip bag. Inside was an eye mask, socks, toothbrush and toothpaste and Sunday Riley lip balm and hand cream. The lip balm and hand cream was a nice touch from Sunday Riley, giving a nice hydration boost on the long flight. The eye mask, socks and toothbrush and toothpaste are standard essentials we would expect on any long haul international flights.
United Polaris In-Flight Dining
Shortly after boarding we were given the choice of sparkling water or champagne as a pre flight beverage. We were also given a menu for our dinner selections. We had already pre selected our meal prior to the flight, meaning our meal choice was guaranteed. Some travellers that did not opt for pre selecting their meal, meaning they missed out on their first choice.
Once we were in the air, staff came around to either ask passengers their preferred meal or to confirm their pre-selected meals. We had pre selected the Seared Flat Iron Steak with mushroom gravy, thyme-roasted red bliss potato wedges and creamed spinach. There was the option to also do express dining where you receive all courses at one time or only select items and your meal.
Our table was then set with a blue table cloth prior to the meal service commencing. Drinks were offered first, and we selected a red wine to have with our meal, Shortly after our meal was served.
A baby red leafy green salad with English cucumber, fennel and yellow bell pepper was offered with our meal along with Salmon rillette with radish, arugula, extra virgin olive oil and baguette as an appetizer. The steak was very overcooked but the roasted potatoes were crispy and creamed spinach had a nice flavour. The salad was fresh yet the salmon had a very fishy taste to it, meaning we couldn't finish that portion of the meal
For dessert there was a choice between an Ice cream sundae with vanilla ice cream scoop and assorted toppings, peach blueberry tart and an assorted cheese plate with Gouda, Grand Cru Gruyere, Butterkase, grapes and crackers. We opted for the peach blueberry tart which was similar in consistency to a cheesecake. It was nice and sweet and just enough to satisfy our sweet tooth.
After dinner we converted our seat into a fully flat bed to get some sleep. There was a good amount of room in the footwell, with it being split in two. The top section for your feet and the bottom section for storage. This proved handy to store any additional bedding and also our smaller bags through the flight, without it rolling around.
We managed to get around 7 hours of sleep with the bedding and seat being reasonably comfortable. It was good being able to choose from two different pillows. It made it easy for passengers to customise their sleep to their liking.
We woke shortly before being served breakfast. There was an option between creamy scrambled eggs with sauteed mushrooms, chicken herb sausage, marble potatoes and baby kale or a ricotta crepe with vanilla cream, cherry sauce and blueberries. We opted for the creamy scrambled eggs and a black coffee. Along with the meal we were served a croissant with strawberry jam, a bowl of fruit and also chobani yoghurt along with our beverage choice. 
The eggs were quite dry and the sausages lacked taste but the mushrooms and kale had a good herb and butter flavouring. Our favourite part of the meal was the yoghurt and croissant with strawberry jam. After being served breakfast we were offered a top up of our drink, before tables were cleared and we prepared for landing.
Overall, the flight was comfortable and had standard essentials you would expect on a long haul international flight. The food was not the best we have experienced, but was still decent for airline food. With good privacy and a comfortable seat, flying United's Polaris Business Class was a positive experience.
To book your next flight with United, contact one of our airfare specialists!