Lufthansa Business Class Airbus A350-900 Review
We recently departed Munich for Montreal in Lufthansa Business Class on their Airbus A350-900, after first visiting the Lufthansa Business Class lounge in Munich international airport. Flying into terminal T2/G from Zurich and out of Terminal T2/L on Lufthansa, meant we had to change terminals for our connecting flight. With a train connecting most terminals, this was a seamless experience and relatively quick. Once past the boarding gate and down the ramp, we boarded from the front entry of the plane, with economy boarding from the middle section.
Lufthansa Business Class Cabin Layout
Seated in 6A, a window seat, there was a pillow and blanket waiting when we arrived. The cabin layout was a 1-2-1, giving all passengers seated in business class direct aisle access. Seating was also alternating to allow for the large footwell. This meant that some seats had a smaller arm rest located on the outside, while others had a larger arm rest.
Ours was the smaller arm rest, which felt like we did not have as much privacy as those with the larger arm rest on the outside. We could directly see other passengers located around the cabin, yet this was not as much of an issue when using the fully flat bed. This was also just our personal preference.
Lufthansa Airbus A350-900 Storage And In-Flight Amenities
In terms of seat storage, there was a shelf located to the left of our seat to store magazines, books or any of our in-flight essentials. Noise canceling headphones were also hanging here, along with our amenity kit located to the right of them.
The headphones were some of the best we have used, canceling out the majority of the surrounding noise when watching a movie. The amenity kit was a neoprene style mesh bag that was big enough to store other items if you wished. Inside were socks, earplugs, headphone covers, a toothbrush and toothpaste, along with a sugar free mint.
We did notice that there were no overhead storage lockers down the middle of the plane. This made it feel very open and bright, and didn't impact storage due to the outer overhead storage having more capacity.
Under the headphones and amenity kit was a remote control for the TV. This control was different to those we have previously seen, being more compact and also having a tracking pad that connected to the screen, similar to using a mouse. On the same side was a reading light along with a second set of seat controls. This one had a larger pad making it easier for use, while one located within your seat was smaller. The smaller one proved useful when in the fully flat position as you didn't have to sit up to reach the controls, you could simply operate the bed from the fully flat position
Apart from the shelves, there was no additional storage aside from a magazine slot located on the back of the chair in front. We would have liked to see one more option for storage, such as one located under the arm rest or under the larger section of the seat for those larger items. A hook for hanging clothes was located on the back of the seat while charging ports were found under the headphones and in the shelving.
The screen was a large size measuring 18.5-inches and had a mixture of new release movies along with classics. This gave a good selection across our 8 hour flight.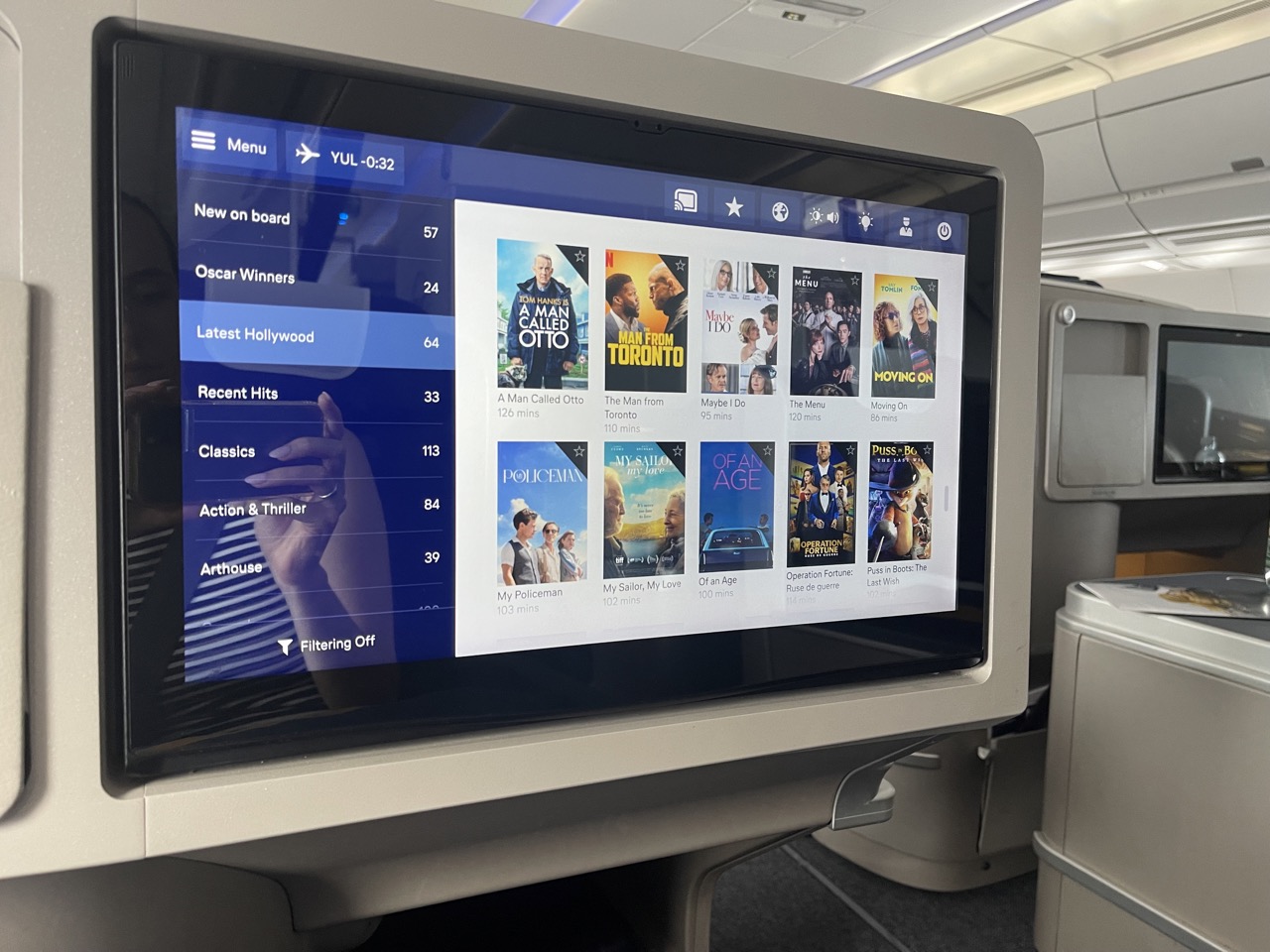 Lufthansa Business Class In-Flight Dining
Shortly after boarding we were offered a choice of Champagne, juice or water. We were then offered a hot towel to cleanse our hands, along with an in-flight menu. We then prepared for takeoff from Munich.
Once we were in the air, cashews were offered as a light snack prior to our meal. We also opted for a green tea due to being earlier in the day. A great stand out was during the entire flight, we had the same flight attendant serving us. He also introduced himself and was very attentive, even offering a wine tasting with our dinner service to those that opted for a wine. 
The tray table pulled out from the table located to our left. It was a good size and easy to manoeuvre to our liking. For dinner we picked the smoked salmon which also came served with a side salad and a choice of bread wholemeal roll, white sliced bread or a grain roll. The salmon was very fresh and didn't carry a fishy taste as you sometimes expect with airline food. The avocado puree was creamy and the cream cheese was a refreshing touch. The salad was crispy, fresh and had a nice dressing served in a small bottle, while the roll was fluffy and had a generous serving of butter.
For main we picked the chicken, which came served with jasmine rice and a side of vegetables. The chicken was delicious, however the sauce it was covered in was just a touch too rich for us. The rice was well cooked and vegetables a nice addition. For dessert we opted for the lemon pie, which was delicious and fluffy and had a few berries on the side. To finish, we were handed a small box of chocolates.
After the main meal service, cabin crew dimmed the cabin and also closed all window blinds to create a darker sleeping environment. When it came time to sleep, we converted our seat into a fully flat bed. 
The footwell was long, however, was a bit narrow and made it difficult to move around during our sleep. The seat was also slightly hard, making it a bit uncomfortable to lie on our side. A mattress topper would be a nice addition to fix this. They do offer one on their Dreamliner services on flights over 10 hours, but feel this is needed on medium-haul flights too. 
A few hours before landing we were offered another meal service. Due to flying into Montreal at 7pm, it was a dinner service. There was a choice between a smoked salmon or ravioli. We opted for the smoked salmon due to not being overly hungry. The smoked salmon was fresh and the crunchy salad underneath was a nice addition and added some creaminess to the dish. Due to having Salmon for the entree of our first meal service, it was a bit of a salmon overload. The dessert option on the plate was similar to a bread and butter pudding, or some type of creme brûlée. A final request for beverages was offered before we began our descent into Montreal.
Our Lufthansa flight from Munich to Montreal was a pleasant experience with staff providing friendly and attentive service. The meals offered were fresh while the beverage selection was extensive for in-flight service. It was noticeable that that the aircraft was not only new, but also exceptional quiet compared to other models, making it a pleasant flight. 
To book your next trip with Lufthansa, contact one of our airfare specialists today!